On August 31, the Conference on Belt and Road Think Tank Construction was held on West Yan'an Road Campus. DHU's Party Secretary Liu Chenggong and Vice President Chen Nanliang, the heads of relevant departments and colleges, experts and scholars attended.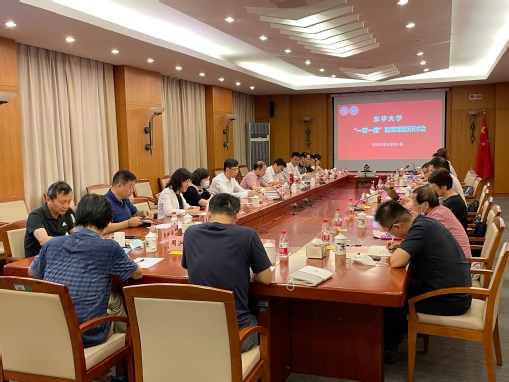 (Conference in progress)
In terms of think tank construction, Liu Chenggong stressed that it was necessary to closely combine it with the features of DHU, focus on decision consulting research, a long-term concern, and produce valuable research results. DHU should cultivate influential and professional representatives, build an interdisciplinary research team, and create a new way of think tank construction with distinctive features. DHU should also build a multilevel academic exchange platform, establish a fully functional information collection and analysis system, boost the commercialization of research findings, deepen international exchanges, media cooperation and interaction with other universities, and improve the influence and communicative effectiveness of the think tank in multiple dimensions. As a result, it can improve discipline construction, talent training, international cooperation, etc.
Chen Nanliang pointed out that, in the construction of Belt and Road Research Center, DHU, clear objectives, advance planning and focus on research topics were required to promote the precision and systematization of Belt and Road research; resources inside and outside of DHU needed to be pooled together and colleges and departments should make concerted efforts for the construction of Belt and Road think tank.
Prof. Xu Ming and Zhao Junli from Glorious Sun School of Business and Management, and Prof. Wang Hua from the College of Textiles reported the progress of their recent researches and gave their suggestions on the internationalization of the think tank. Besides, the heads of relevant departments and colleges exchanged views on the coordinated development of Belt and Road think tank construction with DHU's characteristics, discipline construction and talent training.