On August 6, the "2019 Shanghai Education News Figure of the Year" was officially announced, and the design and performance team of our university of "Floral fairy" on the float of "Advance Bravely, Shanghai" in the 70th Anniversary of National Day won the "Shanghai Education News Figure of the Year · Special Team Award".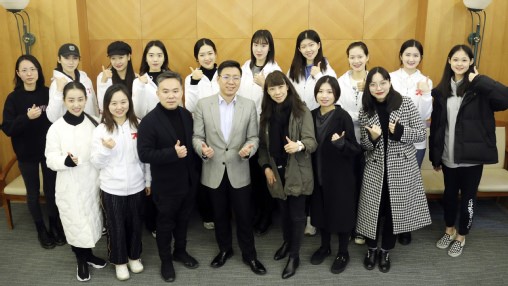 (The design and performance team)

On October 1, 2019, a mass pageant to celebrate the 70th anniversary of the founding of the People's Republic of China was held in Tiananmen Square, Beijing. Among them, there were 7 gentle beauties on the float of "Advance Bravely, Shanghai". They wore Shanghai-style cheongsams with Magnolia as the main element with smiles on their faces and round fans in their hands. They presented gifts to their motherland on behalf of Shanghai.
Our university, as the only participant in the costume design and performance for the Shanghai float of the 2019 National Day, had actively took part in the "Floral fairy" fashion design, production and performance for the National Day float since receiving the task in May of that year.
Focusing on the theme of the National Day, the team connected the traditional cheongsam with the trend of the times, blended the excellent Chinese traditional culture and the Shanghai fashion culture and made innovations, fully demonstrating the pioneering and innovative image of Shanghai. After returning to the university, the team members participated in various Party lectures. Their experience had educational significance, helping more teachers and students receive patriotism education with the original mission in mind.
This was not only an amazing presentation of the advantages and characteristic disciplines of our university, but also a display of the spirit of patriotism and the continuous pursuit of excellence of teachers and students. The related news reports of the activity greatly enhanced the sense of honor and belonging of the teachers, students and alumni of our university, and explained our mission of serving the country by virtue and disciplinary advantages.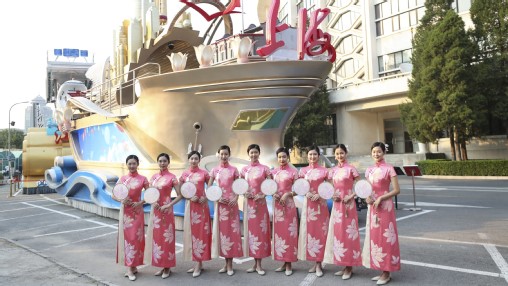 (Display of "Floral fairy")
It was known that Shanghai Education News Figure of the Year was an annual great event, aiming to publicize advanced figures and deeds of Shanghai education system and all walks of life in promoting the reform and development of education.
Since the 2008 Shanghai Education News Figure of the Year, our university had won many awards and nominations, including Professor Zhang Weiyuan, "Father of Warm Body Dummy", Professor Liu Xiaogang, "Expo Fashion Designer", Professor Wang Yimin, "Doctoral Supervisor and Headmaster", "Chao ∙ Strong Relay Team of Love", Professor Chen Nanliang, Weaver of "Wings of Energy" for "Tiangong No.1", and the Spacesuit Research Group of DHU, Professor Qiu Yiping, who assisted Xinjiang with science and technology, and Chen Haiwei, a senior teacher of Advanced Mathematics, and our university was awarded Organization and Recommendation Award for many times. These figures not only showed the elegant demeanor of Donghua teachers and students, but also played a positive role in displaying the image of Donghua and promoting Donghua spirit.
Source: Department of Publicity
Editor: Wang Yu, Writer: Wang Yu