The latest scientific and technological achievements of College of Environmental Science and Engineering-rapid manure decomposition technology was recently transformed and implemented in Weifang Zhunongwang Biotechnology Co., Ltd. On February 25, the director of Shandong Provincial Animal Husbandry Stationvisited the company for inspection and guidance. Professor Liu Yanan, vice dean of the College of Environmental Science and Engineering, and researcher Cai Dongqing introduced the project industry-university-research cooperation's background, technical principle, technical effect and economic and social benefits. Participants visited the production line and exchanged views on the technology promotion method, application scenario, cost, and agreed that compared with the existing composting method, this technology has the advantages of fast, flexible, site labor-saving and high fulvic acid in organic fertilizer produced. This transformative technology can effectively solve the three key bottlenecks of traditional livestock and poultry manure composting: long cycle time, high odor and low harmlessness and provides effective technical support for the resourceization of livestock and poultry manure in China.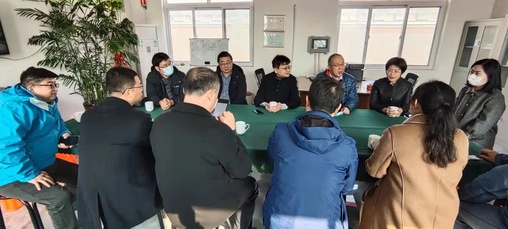 Researcher Cai Dongqing (first row, first from left) and Professor Liu Yanan (first row, third from left) had a technical exchange at the meeting venue
Researcher Cai Dongqing (first from right) introduces the technical process

Rapid manure decomposition technology is an original technical achievement independently developed by researcher Cai Dongqing's team from the School of Environmental Science and Engineering of DHU. The technology can eliminate hormones, antibiotics and harmful bacteria in livestock manure by more than 99%, passivate almost 100% heavy metals, and save more than 70% of space and labor compared with traditional composting. Licensed for use to Weifang Zhunongwang Biotechnology Co., Ltd., the technology has obtained four invention patents and is declared as a disruptive new technology of the Ministry of Science and Technology in 2021. It is expected to lead the organic fertilizer production process from "slow, smelly and coarse" biological composting to "fast, good and fine" green new technology and will promote intensification, intelligence, equipment and greenization of livestock and poultry manure resourcefulness industry.