On February 21, the 2022 annual work conference of "Innovation China" was held in China Hall of Science and Technology in Beijing. At the conference, the list of winners of the 24th Qiu Shi Outstanding Young Scholar Achievement Transformation Award of CAST was announced. Professor Qin Xiaohong from College of Textiles of DHU was awarded the honor. The award is designed for young scientific and technological personnel working in enterprises, scientific research institutes, colleges and universities and other institutions, who have made outstanding achievements in the transformation of scientific and technological advances and their achievements have certain benefits and good application prospects. No more than 10 people receive the award every year on a national scale.
Professor Qin Xiaohong, Associate Dean of College of Textiles of DHU, was rewarded with the second prize of the National Technological Invention Award, the 16th China Youth Science and Technology Award, the first prize of the Scientific and Technological Progress Award of China National Textile And Apparel Council, the Contribution Award for the Transformation of China's Textile Scientific and Technological Achievements, the title of the March 8th Red Flag bearer of Shanghai and the Rising Star Award of Shanghai Women Innovation Award; selected as the member of many talents scheme, such as Education Ministry's New Century Excellent Talents Supporting Plan, Education Ministry's Fok Ying Tung Foundation, Shanghai Science and Technology Development Funds; won many titles, such as China's textile academic leader, Shanghai Technology Research Leader.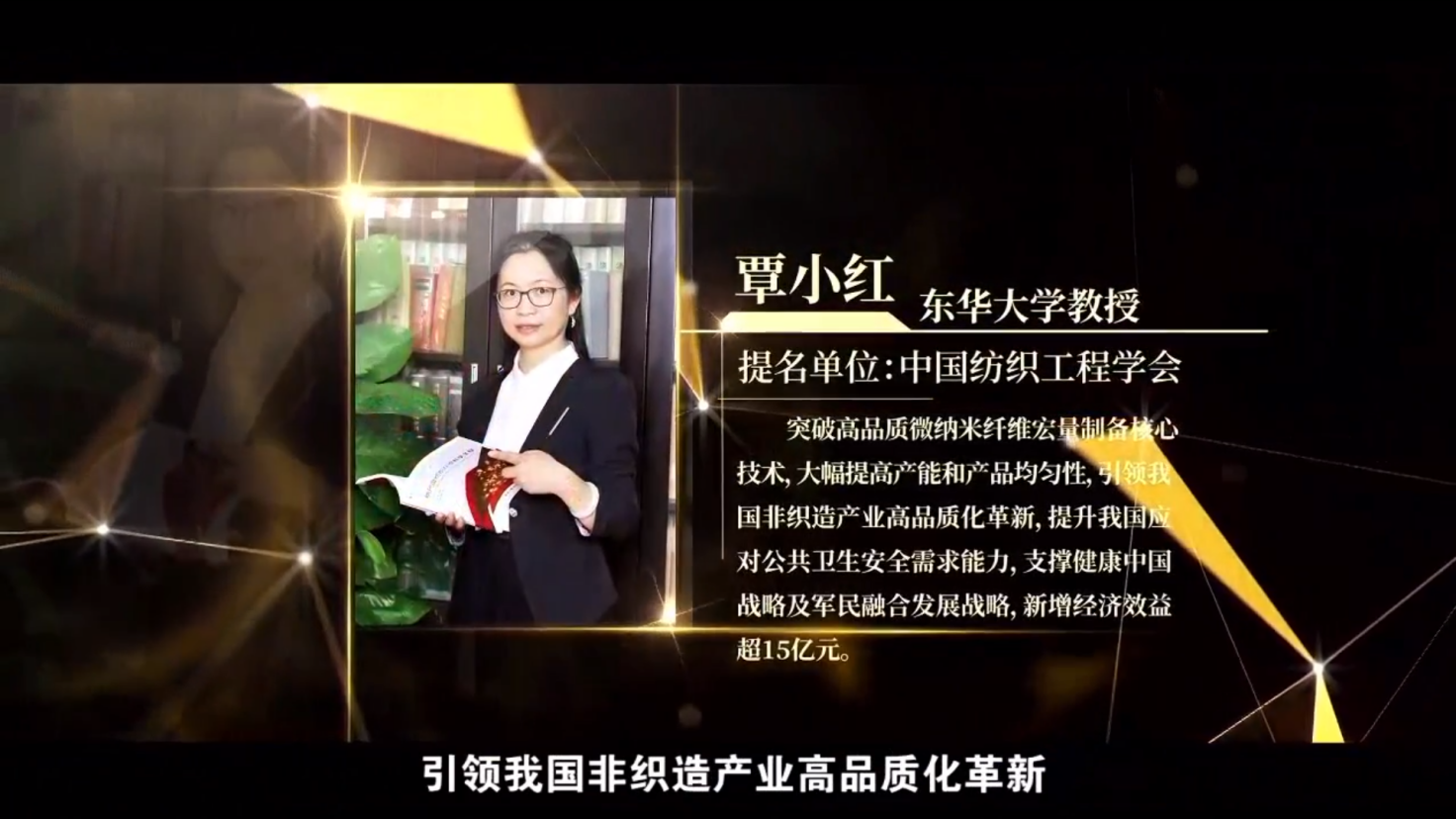 Professor Qin Xiaohong has long been engaged in the research on the theory and technology industrialization of induced forming of multi-dimensional micro-nano fiber assembly media. Her research breaks through the core technology of macro preparation of high-quality micro and nano fibers, greatly improved the production capacity and product uniformity, led the high-quality innovation of nonwoven industry in China, and increased the economic benefits by more than 1.5 billion RMB.
It is learned that the Qiu Shi Outstanding Young Scholar Achievement Transformation Award of CAST has been established since 1998, which plays a positive role in stimulating the growth of innovative talents, motivating young scientific and technological talents showing themselves, and promoting China's science and technology and economic and social development. More than 140 people have won the award, including Ma Weiming, Chen Zuoning, Deng Zhonghan, Ma Huateng, Li Yanhong, Lei Jun and other famous entrepreneurs and researchers.