Recently, the 2020 National Science and Technology Awards Conference was held in the Great Hall of the People. Donghua University,as the leading institution,was awarded two second-place awards of the National Technology Invention Award.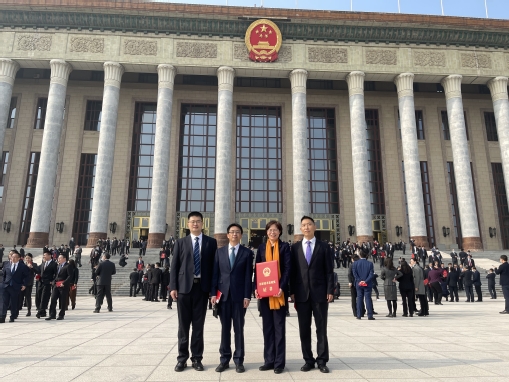 (Professor Ju Meifang and her team)
The award-winning project "The Key Technique of Synthesis of High Sensitivity Multifunctional Fiber by Organic-inorganic In-situ Hybridization" is headed by Zhu Meifang, a member of the Chinese Academy of Sciences (CAS) and dean of School of Materials Science and Engineering. An entirely new method for the design and application of multifunctional fibers is devised as a result of the project's creative approach to one-step in situ polymerization and hybridization of functional polyesters, in-situ hybridization and preparation of multifunctional materials, and functional fiber microfabrication, heterogeneous cross-section, composite processing multi-phase spinning and forming. The project findings have been successfully industrialized in multiple cooperation units, producing great economic and social benefits, leading technical innovation in multi-functional fibers, and boosting the high-quality growth of China's chemical fiber sector.
(Professor Qin Xiaohong and her team)
The award-winning project "Key Technologies and Industrialization for Macroscopic Preparation of High Curvature Liquid Surface Electrospinning Spinning Nonwoven Materials" is headed by Qin Xiaohong, professor of the School of Textiles. In the course of the project, industrialization technology system of electrospinning nonwovens is developed to cover the entire production process including spinning, spreading and forming. Also, the project has developed a complete industrial chain system, which includes large scale preparation theory, technology, equipment, process control and product development & application of electrospinning nonwovens. The project's revolutionary findings have led the nanocrystallization of nonwoven materials and the industry to a new level. Filters with high efficiency and low resistance and sanitization materials for fixed directional water transport developed by the project have been widely employed in epidemic prevention & protection, filtration for civil and special use, sanitation materials for civil and special use, etc. More than 1.8 billion yuan has been generated in economic benefits over the previous three years, with direct economic gains totaling 570 million yuan and new profits & taxes totaling 120 million yuan.
The 2020 National Science and Technology Awards feature 264 projects, 10 science & technology experts, and a single international organization, with the overall number of awards reduced by 33 items (people) compared to the 2019 awards. 46 National Natural Science Awards are included in the list, including 2 first-class awards and 44 second-class awards; 61 National Technical Invention Awards: 3 first-class awards and 58 second-class awards; 157 National Science and Technology Progress Awards: 2 special-class awards, 18 first-class awards and 137 second-class awards.