On November 27, the final of the "2020 China-Japan-Korea Primary and Secondary School Uniform Design Competition" finished. The graduate student JoArisa (Japan) majoring in Design Science and the undergraduate student Kim Sookyung (Korea) majoring in Apparel Fashion Design of DHU won the silver and bronze awards, respectively. The Competition was hosted by the Shanghai Art & Design Academy under the joint supervision of the International Education Association Shanghai and Shanghai Education Press.
This Competition was based on the theme of the design of Primary and Secondary School Uniform in China, Japan and South Korea, and focused on the aesthetics of ethnic fashions in China, Japan and South Korea. A total of 256 works from students majoring in fashion design were solicited. After selection, two international students of DHU were named as finalists and their submitted works were made into displayed costumes by the organizer. In the afternoon of that day, an award ceremony and fashion show was held, and the design works were presented by children models.
The work "New Generation" by Jo Arisa is a series of autumn and winter school uniforms designed for the new generation of primary and secondary school students. Her design work incorporates elements of traditional Chinese and Japanese costumes, including stand collars, kimono belts and other symbolic elements, combines the characteristics of Chinese and Japanese school uniforms, as well as expresses the innovative integration of school uniforms and oriental aesthetics, and the recreation of traditional school uniforms. The work shows the vitality and vigor of the new generation by the use of geometric patterns.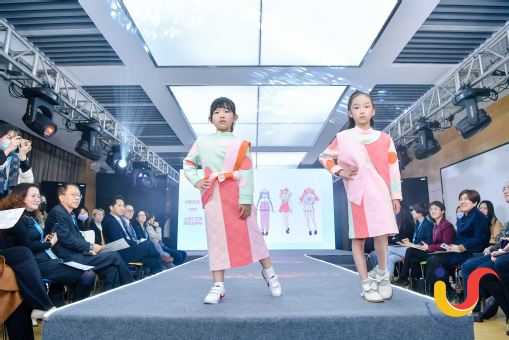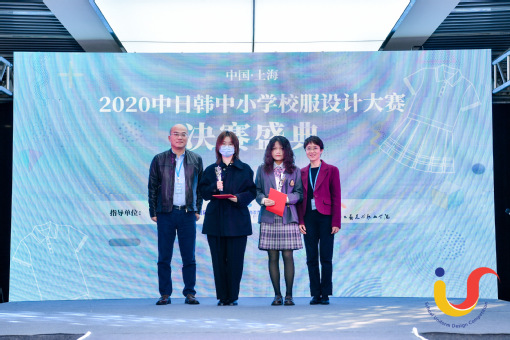 Silver award winner JoArisa, second from left)
The "White Plum" series of school uniforms by Kim Sookyung draws inspiration from the simple and clean characteristics of college uniforms in South Korea,and it also expresses the unique cuteness of primary school students. The girls' skirts are designed into pleated skirt styles, which are more convenient and comfortable when get moving. The middle pants of boy's suit style are designed for children to put on and take off easily. The front zipper of the pant is replaced with an elasticated back waistband, which reduces the incidence of accidental injuries by the zippers when the children put on and take off pants by themselves. The color scheme she uses is clean and simple pure white and navy blue.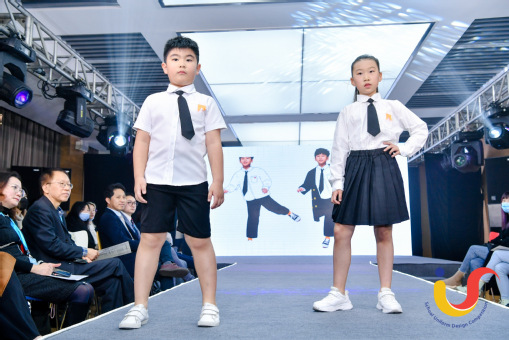 Bronze award winner Kim Sookyung(second from left)
In recent years, in order to implement the national "study in China" plan, DHU has paid great attention to cultivating the practical ability of international students, actively enabling the students to participate in various practical activities, and improving the quality of talent training, which have produced good results.