On December 1, the final of 2020 China-ASEAN Education Exchange Week "Chinese Bridge" – "Princess Maha Chakri Sirindhorn's Cup" online video speech contest for ASEAN students in China ended. Chen Ruiqing, an international student of DHU from Malaysia, won the third prize in the speech contest and the Excellence Award in the "Join Hands to Fight the Epidemic-Unforgettable 2020" Chinese Essay Contest of the 2020 China-ASEAN Education Exchange Week.
With the theme of "Joining Hands to Fight the Epidemic-Unforgettable 2020", the contest received 55 essays and 29 videos from 22 universities across the country, with participants from 16 countries. In the context of the global fight against the epidemic, the organizer aims to propagandize the touching stories of people from all countries in fighting the epidemic in the form of a speech contest, and to motivate more ASEAN students to learn Chinese. As a DHU student of Grade 2017 majoring in fashion and design, Chen Ruiqing is a recipient of the Shanghai Municipal Government Scholarship and she is academically outstanding. She is keen to participate in various competitions. In this contest, she stood out with her essay titled "Your Bravery, My Persistence" and her speech skills.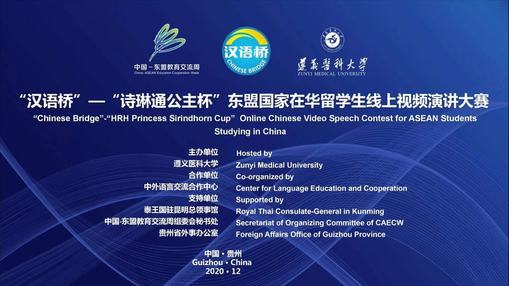 This contest is hosted by Zunyi Medical University, the cooperating unit is the Sino-foreign Language Exchange Cooperation Center, and the supporting units are the Royal Thai Consulate General in Kunming, the Secretariat of the Organizing Committee of the China-ASEAN Education Exchange Week, and the Foreign Affairs Office of Guizhou Province. The China-ASEAN Education Exchange Week, co-hosted by the Ministry of Foreign Affairs, the Ministry of Education and the Guizhou Provincial Government, aimed to deepen the friendship between China and ASEAN countries and promote their cooperation in the field of education. The activities cover e-commerce, educational exchanges, innovation and entrepreneurship, art development, talent training, etc. This is the third time for DHU to participate in the Exchange Week activities. It is hoped that Chinese is used as a bridge to further promote Chinese culture, and attract students from ASEAN countries to actively learn Chinese and contribute to the spread of Chinese culture.